Amsterdam during spring: beautiful, crowded and tulips!
In my opinion spring is the best season for a visit to Amsterdam. During the months April, May and June the trees become green and flowers bloom, which gives the city a fantastic look! It is also the time the city gets overloaded with tourists, since actually a whole lot of people agree with me it is the best season for a visit. Besides, did you know that in April it is Tulip Festival in Amsterdam? There are tulips everywhere!

So…where to relax?
In case you are planning a visit during spring, be prepared, you won't find any quiet street! At least, not in the city center. I can imagine though that you want to take a break of your city strolls too, and preferably in an affordable and quiet place. Not in a cafe where you have to wait for a table for half an hour. In this blog I share with you a couple of places in the city center which provide you a space to relax and calm down, as somehow they are kept a bit hidden, or they are large enough to provide a table to every guest.
Order a lunch in Calf and Bloom
Right at the corner of the Kalverstraat and the flower market you will find this cafe-lunchroom called Calf and Bloom. It is a large lunchroom and it has a nice small menu for dinner as well. However, this is for an early dinner, since kitchen closes already at 7pm. The spacious area will provide you a moment to relax before stepping back into the crowd again. I like the design of Calf and Bloom which is best to describe as industrial.
Take the elevator to Blue Amsterdam
In the Kalverpassage where you can also find the entrance of Calf and Bloom you can find another great cafe to relax for a while during your city trip. For this cafe you have to take the elevator as Blue Amsterdam is located in the tower of the Kalverpassage! Alongside their nice menu card this cafe provides you a beautiful panoramic view over the city. You can even take one of the binoculairs to sneak peak what is going on in the city underneath your feet.
Go back in time at Cafe Luxembourgh
You will notice that at the square called Spui a lot of cafes and pubs are located. And they all look crowdy, after all this is a populair area! Nevertheless, at cafe Luxembourgh it is only the veranda that is crowded. Once you enter the cafe, you will find out it is a grand cafe with lots of tables and often it is quiet. For me cafe Luxembourgh feels like going back in time, as if 80 years ago people already went there for a drink and discussed politics. It is 30 years old, but it looks really nice and the staff is really friendly.
Practical information
These were my tips for taking a break during your visit to Amsterdam. I hope you will have a nice stay! In case you are planning a visit soon, don't foget to purchase your I amsterdam City Card. The I amsterdam City Card is your ticket to a more affordable, action-packed trip to Amsterdam. It provides free entry to the city's top attractions, unlimited travel on public transport, a free canal cruise and significant discounts and giveaways. Do you want to save this information on Pinterest? Great! You can use this image to do so: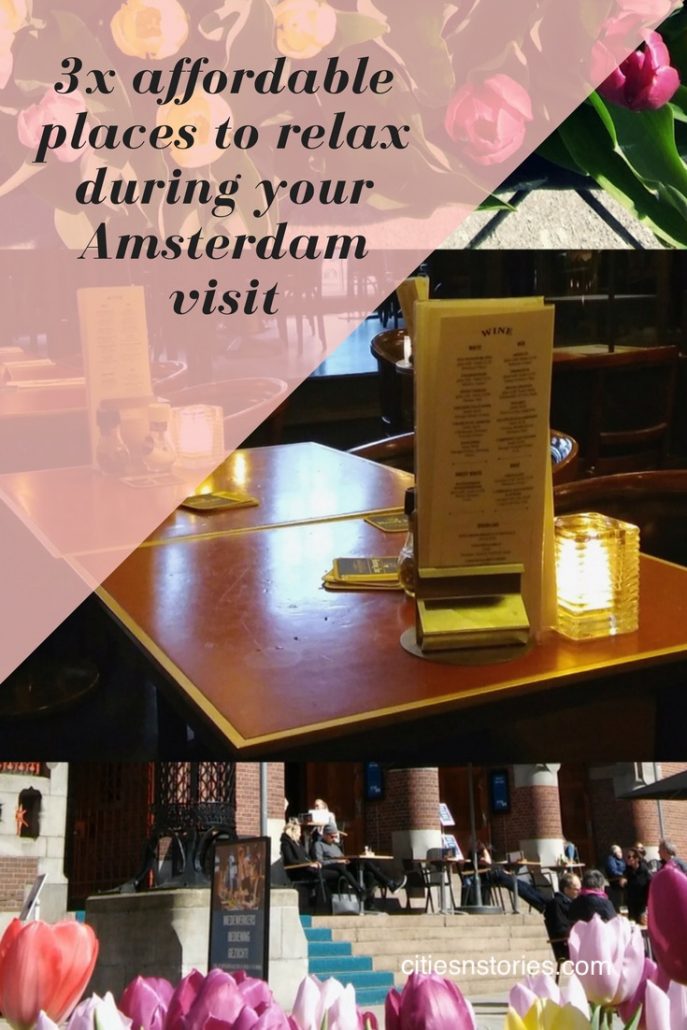 http://blog.0200000.citiesnstories.com/wp-content/uploads/2018/04/Amsterdam3x-2.jpg
2989
1839
janine reso
http://citiesnstories.com/wp-content/uploads/2021/08/Cities-n-stories.png
janine reso
2018-04-06 21:46:24
2019-03-06 22:34:28
3x affordable places to relax during your Amsterdam visit.