Amsterdam during winter
Winter is coming! Whilst during summer days the terraces of Amsterdam along the canals were the place to be, you can find the tips for it in my blog about 5 spots to cool down during summer, this time of the year asks for different locations to enjoy the city. Find out in this blog how you can spend your days best during winter time in this marvelous city also known as my hometown: Amsterdam!

1. visit the Light Festival
For a visit to Amsterdam during winter, you have to bring a warm coat and gloves in any case, since the weather can be freezing, and I bet you do want to explore the city after all. An outstanding good reason for a stroll alongside the canals in the evening  is called the Amsterdam Light Festival, which takes place from 30 November until 21 January. This festival contains artworks of lights on a nice route through the city center, which is really nice to see! Therefore, put on your warmest coat, so you can enjoy the artworks that give the city a magic atmosphere.
2. travel south for an indoor winterfair
From half December until 1 January the Amsterdamse winterparade will take place. A good thing is that al lot of the activities are indoor! In the south of the city you can find this big center called RAI, and this is the location of this winter parade. It is easy to reach, since a lot of public transport stops at stop RAI actually. Bring skates, or hire them, for a ride on the ice rink, or stroll down the christmas market. A cinema in Christmas atmosphere and a wellness are present as well, and outside you can take a ride on the ferris wheel. So far I have found the website of it is only in Dutch, however, via 'info' you can find the address of RAI, and other information such as ticket prizes.

3. go to Pancake Bakery and eat pancakes for lunch
Go to Pancake Bakery at the Prinsengracht no 191, or to Bistro Bij Ons at the Prinsengracht no 287 for a delicious lunch with pancakes. There are also other cafe's in the city center which offer pancakes on their menu, but at least in these two places they bake the pancakes themselves, so you will get to taste the real homemade pancakes. Important question in other places is "are the pancakes homemade?" since there are unfortunately also cafes that sell the not so tasty microwave instant pancakes, and you should avoid eating those.
4. try out the Amsterdam Lookout
If you wish to see the winter scene of the city from above, visit the Amsterdam Lookout! In my previous blog about when I visited this 100 m high viewpoint, you can find all information about it. The Amsterdam Lookout is very nearby the central station, just one ferry across the pond, and it is where you can make great pictures of the city.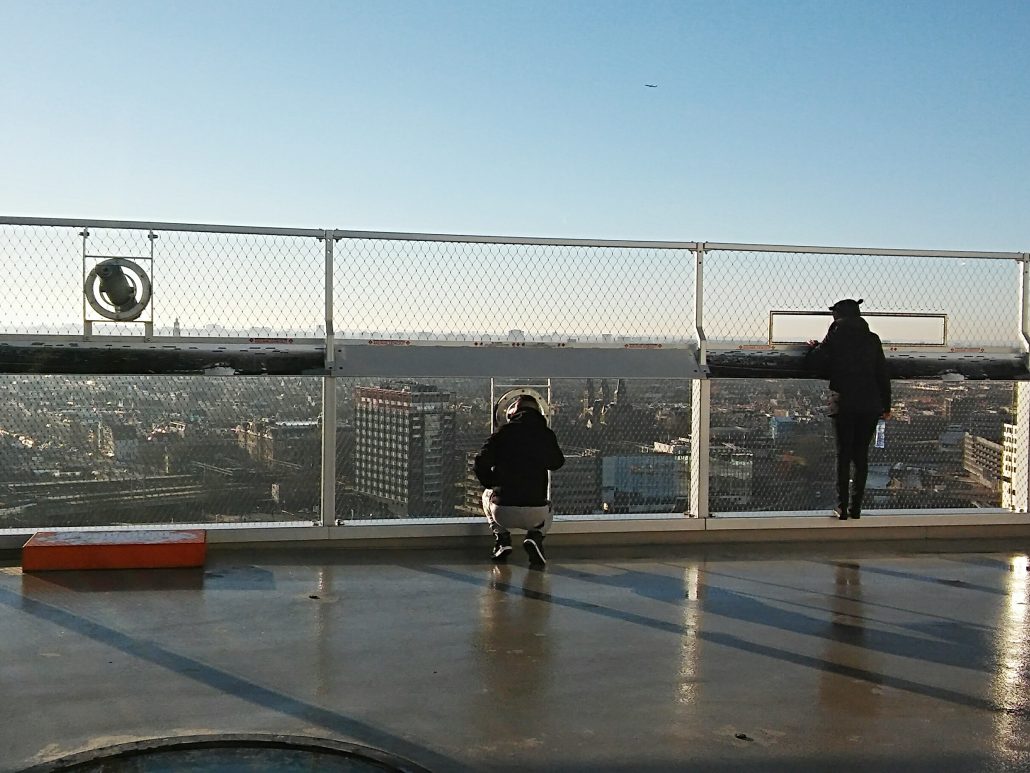 5. take your time for a visit to the museum
As a city visited by tons of tourist each year, the lines are usually long in front of the entrance of a museum. An advantage is that during winter the city is less crowded. Since it can be cold outside, it is the perfect time to spend a day in a museum such as Rijksmuseum for instance. However, since more tourists might think of this, it will be beneficial to buy your tickets for your museum visit online in advance anyway. By doing so you can skip the line.
Practical information
Except for the Amsterdam Winterparade, the locations of all my other tips you can find in the city center of Amsterdam. In case you want to spend some more days in the city, you can easily check this link of Booking.com* and book your accomodation. Since Amsterdam is a popular city, book your stay in time. Via the links provided, you can find the websites of the locations including all the practical information such as address and ticket prizes.
Would you like to save this information on Pinterest? Great! You can use this image for it:

this is an affiliate link. Thank you for your support!
http://blog.0200000.citiesnstories.com/wp-content/uploads/2017/11/IMG_20170212_115639.jpg
1694
1694
janine reso
http://citiesnstories.com/wp-content/uploads/2021/08/Cities-n-stories.png
janine reso
2017-11-15 22:44:27
2019-05-28 16:16:19
5x places to go in Amsterdam during winter.